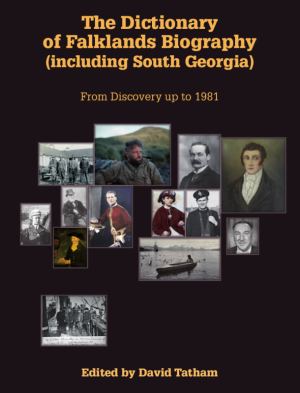 The Dictionary of Falklands Biography casts a fascinating light on the day-to-day life of a small British colony over 180 years, with its administrators, farmers, doctors, priests, merchants, naturalists and a fair crop of characters. Personalities who never visited the Islands, but impinged on their history, from St Malo and Samuel Johnson to assorted Argentine presidents, are also covered.
The Dictionary is illustrated, partly in colour, with many paintings and photographs, some from private collections, not previously published.
Over 480 names are included in the Dictionary, which is edited by a former governor of the Falkland Islands, David Tatham. The entries are written by 176 contributors, many of them the world experts on their subjects. Personalities who were active before 1981 and are still alive have written their own accounts of their lives. The biographies included shed new light on:
the first discovery of the Islands
French, British and Spanish claims and counter-claims of the 1760s and 1770s
the whalers, sealers and traders of the eighteenth and nineteenth centuries
the colony of Louis Vernet
governors and councillors – the growth of British administration
the settlement of the Islands and the triumph of the wool economy
the exploration of South Georgia
the rise and fall of the whaling industry in South Georgia
the impact of two World Wars
beyond wool - the search for agricultural diversity
the growth of environmental consciousness
and the steady increase in Argentine pressure on the Islands.