Camp teacher and fascist, was born in Ebbw Vale, Wales on 15 September 1915 to a farming family. He was educated at West Monmouth School and became a teacher. In 1934 he attended a Blackshirt rally and embraced fascism, visiting Nazi Germany in 1937.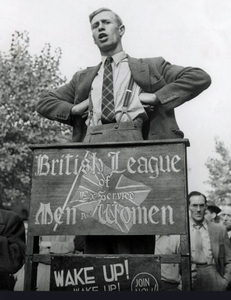 He became a Camp teacher in the Islands just after the outbreak of World War II, but within a few months was arrested at Port Sussex on a charge of spreading fascist views among the children he taught. He was held for some months on the Fennia in Stanley harbour and then sent to an internment camp in South Africa.
After some war service in the Royal Armoured Corps, he re-entered street politics and became an effective orator in the anti-Semitic and racialist campaigns of the British Union Movement.
He died on May 4 1992. Despite his violent views, his former pupils remember him as a pleasant teacher.
Editorial comment: 
The Jane Cameron National Archives has a collection of cuttings from various newspapers, and from The Sunday Telegraph 6 February 1986 we learn that after 46 years since Jeffery Hamm was arrested at Port Stephen, he finally discovered the reason behind his detention: 'It is 46 years since he [Hamm] was detained in the bleak outback of the Falkland Islands, where he was a travelling teacher for the Colonial Service. He was held, almost certainly after an MI5 investigation, and sent to a camp in South Africa. On Thursday Mr Hamm, now 70, found that the authorities had offered no evidence for his arrest. A previously closed file shows that he was held for unsubstantiated claims that he promoted fascist views to islanders and children in his care. Officials at the time described him as having a "venomous pen."All these allegations he strenuously denies. "The file shows no evidence was offered" he told me. "The Falkland Islanders in those days would not have had the faintest idea what I would have been talking about anyway. I have absolute contempt for the people who were responsible, knowing that it was a squalid racket. There was no possibility that any of us would have ever sided with the enemy. It still makes me angry to think about what happened".'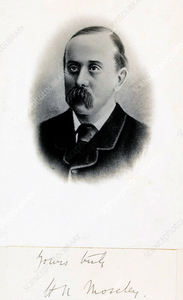 Jeffrey Hamm; Action Replay - an autobiography; Black House Publishing; 1983
Jeffrey Hamm; The evil good men do; Steven Books; 1992
David Boothby; The History of British Political Parties. London, U.K.; 2001
'A Mosleyite sees files on his past'  Sunday Telegraph; 14 February 1986 
'The activities of Jeffery Hamm, Travelling teacher, in the Falklands'; Jane Cameron National Archives; file no: WAR/W21/1#4