Olympian, was the second son of Louis Augustine BAILLON (1846-1927) of Fox Bay. Louis Charles Baillon is (to date) the only person born in the Falklands to win a gold medal at the Olympic Games. Baillon's father emigrated to the Falklands in the mid-1800s from Nottingham to become a sheep farmer.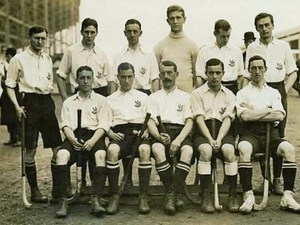 Louis Charles Baillon was born 5 August 1881 at the home of his grandmother, Julia Williams, in Stanley, and was baptised on 30 January 1883 at St Mary's Church. Baillon returned to England in 1888 and settled in the Northampton area. He soon established himself as a good all-round sportsman, excelling not only at hockey but also at football and he played county tennis. At the 1908 Olympic hockey tournament at the White City, Baillon played as a full-back for the England team, which was one of the four home countries representing Great Britain at the Games. He played in all three of England's games, against France, Scotland and Ireland and he won his Gold medal when the English hockey team beat Ireland in the final by eight goals to one.
Baillon married Mildred Isobel Green (1881-1949) in 1910, in Bedford. Mildred was, like her husband, an England hockey international. Louis Charles Baillon joined the Army Service Corps, as a lieutenant, in 1914 and saw service in France before he left the army in 1920. He continued playing hockey during his time in the army and was still playing well into his thirties. After World War I he got a job as a manager with the Phipps Northampton Brewery Company (the oldest brewery in the UK). He later became a director of the company.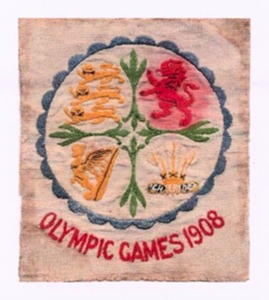 Mildred and Louis Baillon had four sons and a daughter. Two of their sons, Paul (1914-1940) and Mark (1916-1940), were killed in action while serving with the RAF in World War II. Paul Baillon was killed when his Spitfire was involved in a dogfight with the Luftwaffe over the English Channel on 28 November 1940. He is buried at Bayeux War Cemetery, Calvados, France. Mark Baillon joined the RAF in 1934 and was killed flying from Wick, Scotland, in a Coastal Command Beaufighter over the North Sea on 28 December 1940. Mark Baillon had previously been 'Mentioned in Despatches,' and he is commemorated on Panel 4 of the Runnymede Commonwealth War Graves Commission memorial. Louis Baillon's other two sons, Richard (1912-2003), who served in the army during World War II, and Louis (1911-1991), who served in the RAF, were both excellent county standard rugby players. Louis and Mildred's fifth child, also called Mildred (born1917), served as a WAAF Officer during the war. Louis Baillon died on 2 September 1965, in Brixworth, Northamptonshire. In 2017 his sporting memorabilia were purchased by the Friends of the Falkland Islands Museum and Jane Cameron National Archives and donated to the Museum in Stanley. One of Louis Baillon's brothers (the seventh son of Louis Augustine Baillon) - Major General Joseph Aloysius Baillon CB CBE MC (1895–1951) was a distinguished senior officer who served in both World War winning the Military Cross in 1918. He married, in 1925, Gertrude Emily Fellowes Prynne of Plymouth; they had two sons and one daughter.