colonist, was born in Nottingham, England in 1846, the fourth child of Louis Augustine Baillon (born in St Quentin, France in 1815) and Eliza Catherine Blake (born in Nottingham in 1817).
In 1866, at age twenty, together with his younger brother Edward and two Yorkshire men named Stickney, Baillon chartered a sailing vessel and set off for South America to find somewhere to settle.
After visiting several places along the coast of South America they acquired 78,332 acres of land at Fox Bay on the island of West Falkland. They lived under their overturned boat while building their first residence, a building that still stands and is used by the Edwards family, current owners of the property, as a tractor shed. Baillon married Mary Julia Isobel Williams, daughter of Charles Henry Williams, a Weddell Island sheep rancher, on 28 March 1876 in the Church of Our Lady Star of the Sea in Stanley.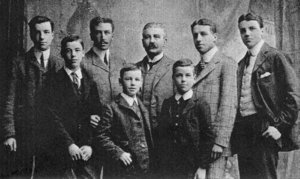 They had fourteen children. The first seven, born in the Falklands, were: Marie Barbe (b1876) Marie Eleanor (b 1878) Alexander Falkland Baillon (b 1880) LOUIS CHARLES (b 1881) Catherine (b 1883) Constance Winifred (b 1885) and Mildred Frances (b 1887).
In 1888, Baillon's share of the Fox Bay property was sold to Bernard Stickney, and the family returned to England. However he obviously maintained some connection with the Falklands as it is noted that, when St Mary's Church in Stanley was blessed in 1899 by Father Patrick O'Grady, it was under the sponsorship of Mr Louis Baillon who had contributed to the church construction.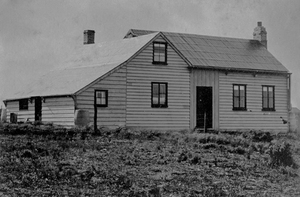 After his return, he was employed by a bank in various places in southern England.
Following the death of his wife in 1924 he moved from Teddington in south-west London to Ventnor, Isle of Wight, where he died on 27 January 1926.
The family's name is always pronounced 'Ballion' in the Islands.