headmaster, was born on 12 August 1920 in Widnes, Lancs, the sole child of Alfred Booth, a co­operative grocery manager, and Alice May Booth, née Parker, a milliner.
Educated locally in elementary school and at the Wade Deacon Grammar School, Widnes, he trained as a teacher at Chester College. By this time World War II had broken out and he served as a chemist in a chemical defence research establishment for the duration. On release he taught in various schools of the Liverpool Education Department for five years. During this time, in 1946 he married Jessie Kay, a Hollerith machine operator (an early form of mechanical computing). He had great interest in the natural sciences, flowers, birds and wild life. Most of his vacations were spent in the mountains of the British Isles.
In 1951 he answered an advertisement for a teaching post in the Falklands and was accepted as a teacher in the Stanley Senior School. The school leaving age was fourteen, although there was a continuation class for those pupils who wished to continue for a further year. In the following years a science course was developed and in time a science laboratory was built and equipped. There was, of course, little or no road transport outside Stanley but expedi­tions to Kidney Island on the government harbour launch Alert were enjoyed by groups of senior pupils. Booth and his wife walked along the Wickham Heights to Ajax Bay, living mostly on pemmican and porridge. In those days both staff and pupils were occupied in the summer months with gardens, peat-cutting and rickling*. It was possible to fish locally along the coasts (no minefields).
In 1964 he was appointed headmaster of the Stanley schools. In 1968 the age limit was raised to fifteen, giving the senior pupils the opportunity to extend their education. At that time there were few job opportunities in Stanley for girls. A few trained for nursing, but most available jobs were in domestic service, mainly with farm managers in Camp. With the extra year available Booth initiated a commercial course: book-keeping, shorthand and typing to RSA standard, with himself teaching book-keeping and his wife teaching shorthand and typing. The course proved very successful and many pupils passed the RSA examinations and found careers in various offices.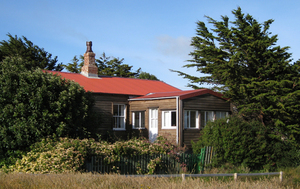 In 1970 the school was badly damaged by fire, which meant that for several months some classes had to be held at 44 Davis Street while the main building was repaired. The frequent climbs up and down Davis Street/John Street each day were good for the wind if not for the limbs.
Booth retired in 1976 and then had a varied life acting as a locum for officers on leave. Among other positions, he served as harbour master, customs officer and central store officer. When Madge BIGGS retired he took over the position of librarian and also found himself almost overwhelmed with requests from a number of farms and small businesses in Stanley to deal with their bookkeeping and accountancy.
It was not until he was eighty years old that he retired for the second time from all the further work he had taken on. In addition to other responsibilities, he and his wife Jessie were both active as JPs.
They now spend their time bird-watching, walking and gardening. They also make regular visits to Australia, to the family of their unofficially adopted daughter, Joan Halliday. They live at Racecourse Cottage in Stanley, their home for the past thirty years.
Stuart Booth died in the Falkland Islands on 4 February 2015.
Editorial note:  Both Stuart and Jessie Booth were separately awarded in the MBE during their time in the Falklands - for their services to education (Stuart) and to the community (Jessie in 1989).