character, was born in present day Argentina or Uruguay around 1807. She is reputed to have been ' a Princess' - the daughter of an Indian chief and she arrived in Port Louis in 1830 while Louis VERNET was in charge. She is mentioned in HELSBY's account of the murder of BRISBANE as taking refuge with the other survivors on Hog Island. When Lt SMITH took charge in 1834 he agreed with her that if she could make milch cows of the wild cattle caught by the gauchos, she might keep every second calf. Her ownership of these cows worried later naval commanders, as Antonina Roxa had accumulated a considerable quantity. A naval captain referred the question of ownership to the Admiral at Río, who in turn passed it to the Admiralty, whence it was referred back to the newly appointed Lieutenant Governor MOODY - who finally agreed that she might keep the cattle. He told London: 'I have considered it advisable to employ her as a gaucho in the field, being an active person riding as a man (astride, not side-saddle) and tolerably skilful in the use of the lasso'. Lt LOWCAY, in charge in 1839 noted: 'she was a very humane and good character, and particularly useful in the Colony as a doctrix and midwife'.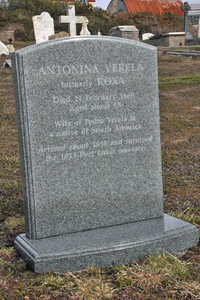 She became the first person in the Islands to swear an oath of loyalty to the Crown in 1841, and was mentioned by Governor RENNIE in LegCo in 1850 as a foreigner who wished to be naturalised. In the 1843 census she owned one sixth of an acre and several houses, plus ten cattle and forty sheep. She moved to Stanley when the seat of government shifted and in 1847 owned a plot and property worth £30. During the late 1840s she was employed by Commander SULIVAN as a children's nurse, but her weakness for drink undid her. In the 1830s she had been married to an American sailor named Kenney (or Kinney), but they were divorced by Lt Smith in May 1838. Around 1851 she married Pedro Varela, a gaucho from Montevideo about ten years her junior and found employment in the FIC farm at Hope Place. In 1866 she leased (in her own name) a station of 6000 acres for £5 at Middle Point north of Port San Carlos. She died of cancer on 14 February 1869 and is buried in Stanley cemetery. A valley at Port Louis was named Antonina Vale during the 1840s.
Antonina Roxa left a vivid impression on everyone who met her: by origin 'a princess', an intrepid horsewoman, a competent gaucho, a canny business woman, a humane doctrix, she was accepted by a succession of administrators and governors as a person in her own right. She deserves to be better remembered as one of the more exotic characters of the early days of the Colony.